REASONS TO TRAIN WITH 
FLORIDA SPORTS PERFORMANCE
LOCATED 357 HIATT DRIVE GARAGE BUILDING, PALM BEACH GARDENS, FL 33418
INDIVIDUALIZED TRAINING PROGRAMS
EACH STUDENT ATHLETE WILL RECIEVE THEIR FREE EVALUATION AND POWER TESTING PRIOR TO BEGINNING ANY STRENGTH TRAINING.  THIS IS DONE FOR SEVERAL REASONS, NUMBER 1 IS TO KEEP THE ATHLETES HEALTHY BY IDENTIFYING ANY WEAKNESSES OR INBALANCES, BUT THIS EVALUATION IS AN OPPORTUNITY TO GET ESTIMATED MAXES ON UPPER AND LOWER BODY LIFTS SO THAT A PROGRAM CAN BE DESIGNED.  EACH ATHLETE WILL PERFORM EXERCISES AND PROGRESSIONS THAT ARE BASED ON AGE AND SKILL. 
ALL SESSIONS ARE DESIGNED AND CONDUCTED BY COACH SHARP, NOT AN INTERN.  COACH SHARP HAS 10+ YEARS OF COLLEGIATE DIVISION 1 STRENGTH AND CONDITIONING EXPERIENCE. WITH NUMEROUS PROFESSIONAL ATHLETES TRAINED AND TEAMS IN THE TOP TEN IN THE COUNTRY, COACH SHARP'S PROGRAM IS PROVING TO TURN ATHLETES FROM GOOD TO GREAT.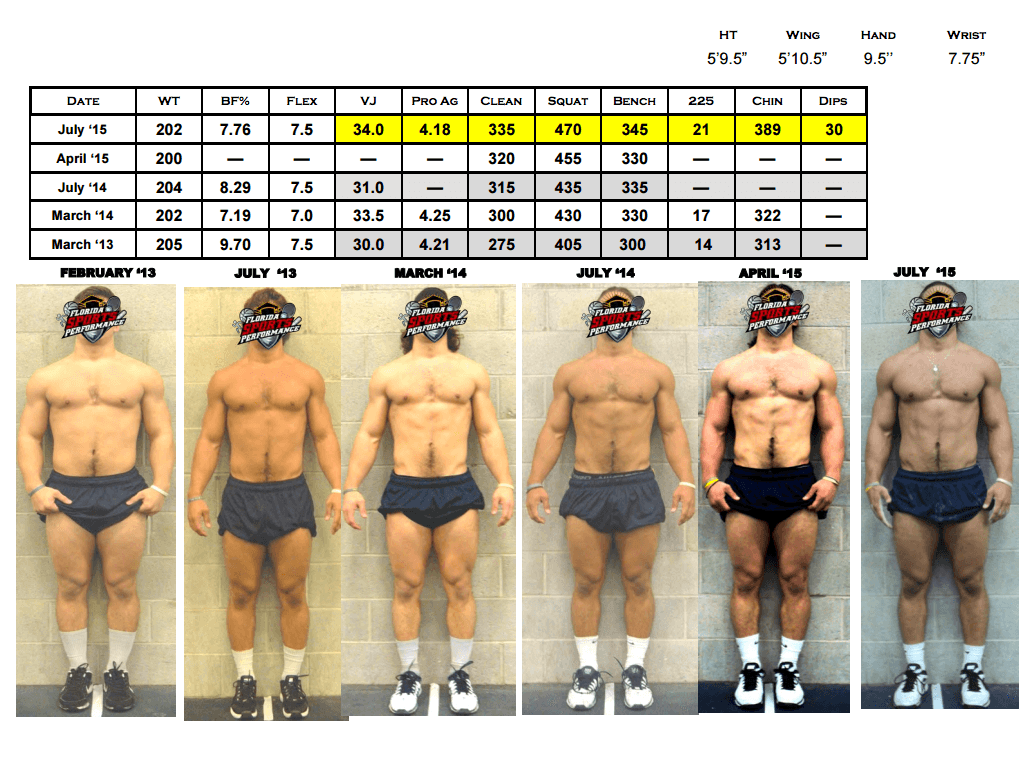 GOAL SETTING IS HUGE AT FLORIDA SPORTS PERFORMANCE. THE WAY THAT WE TRACK YOUR OBJECTIVES AND PROGRESS IS THROUGH YOUR ACTIVE RECRUITING PROFILE. THIS PUTS ALL OF YOUR TRAINING INFO IN ONE LOCATION, SO NOT ONLY YOU CAN ACCESS IT BUT YOU CAN ALSO EASILY SEND YOUR BODY OF WORK TO COLLEGIATE COACHES. YOUR RECRUITING PROFILE STAYS CURRENT WITH YOUR PROGRESS AND ALSO STAYS UP TO DATE WITH HIGHLIGHT VIDEOS OF YOUR SPORT AND TRAINING HIGHLIGHTS.
FUN & COMPETITIVE
TRAINING ENVIRONMENT 
"IRON SHARPENS IRON" FLORIDA SPORTS PERFORMANCE IS THE PLACE TO TAKE YOUR GAME TO THE NEXT LEVEL! A FUN COMPETITIVE ENVIRONMENT IS NECESSARY TO MAKE SURE THAT YOU LEAVE THE WORKOUT A LEVEL UP FROM WHEN WHEN YOU WALKED IN THE BUILDING.